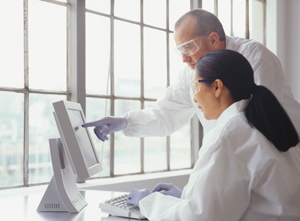 You may think all clinical lab software is created equal, but you'd be mistaken. Perhaps you're having trouble with your current medical information system and are looking for a change, or need software with a better interface and improved functionality. You don't have to settle for a pre-packaged system that's slow to update. You deserve to work with a vendor who will provide you a system made to suit YOUR lab while keeping up with each new healthcare regulation.
Comp Pro Med's Polytech LIS is your solution. Our track record speaks for itself. We are not a fly-by-night business – we have a long history in the clinical lab software industry. Over 30 years, in fact. We've survived by adapting our technology to match the shifting healthcare tide. The Polytech system transitioned from ICD-9 to ICD-10 in 2012, two years before its 2014 deadline. Several other LIS vendors are still implementing their transition plans. This is just one of the many benefits Comp Pro Med offers our customers – fast turnaround and the ability to think on our feet. We specialize in software made to suit clinical labs and hospitals of any size, from the private practice level through governmental infrastructure. Our systems can be customized to suit HIV testing facilities, veterinary clinics, teaching hospitals, and more.
At Comp Pro Med, we are responsive and attentive. Your clinical lab software will receive regular updates and the team at our Santa Rosa office is available to personally help you with any issue. Please call us at 1-800-276-4522 or fill out our online form for your free quote or demo today!