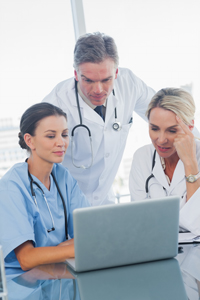 Finding the right clinical software solutions for your lab is often no easy task. That's why the folks here at Comp Pro Med work extra hard to provide a customizable, quality system that will work for facilities of any size. If you've never tried the Polytech LIS, we recommend contacting us for a free demo today. With over 35 years of experience in creating and providing interface software for clinical laboratories, you'll notice the difference in our system right away.
Over the years, many companies offering interfaces have cropped up, many offering laboratory information management systems. Though similarly named to laboratory information systems, they are completely different clinical software solutions. LIMS software is intended for large batch work, such as is required for organizing research data. This type of system has some crossover application for clinical labs, but it's not ideal for the nuance required for running individual lab tests or managing patient information. The Polytech LIS is uniquely suited for labs, hospitals, veterinary clinics, testing facilities, and more. Most work can be accomplished on a single screen, allowing for convenience and ease of use. Additionally, the system is flexible and can be linked with equipment currently in the lab. Not every "out of box" LIS can offer that functionality.
Our LIS software can be found on multiple continents, including North American, Asia, and Africa. These clinical software solutions have had great success in labs of varying sizes, from small local clinics to large hospitals. We offer a variety of financing options to ensure a quality system is within reach for any facility. For a free demo or quote, please contact us today!