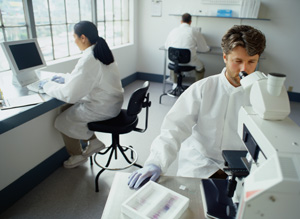 If your laboratory's unique needs call for custom LIS software, you've come to exactly the right place. For going on 35 years, CompProMed has been a leader in the laboratory information system industry, continually providing innovation and flexibility to our clients. The CompProMed LIS software is built with flexibility in mind, allowing the system to be customized for your lab's individual requirements. While a lot of LIS and LIMS software comes as a plug-and-play system that requires additional customization, Polytech is tailored to your lab from go.
In our experience, a custom LIS is essential for optimal performance. Every laboratory operates differently and employs different equipment to get the job done. There's no "one size fits all" system. This is why CompProMed has continually gone above and beyond the typical call of duty to create a regularly updated, innovative system that can be modified to interface between departments and with a variety of equipment. Your laboratory information system is the software that connects your entire lab and ensures effective communication. When done correctly, it dramatically reduces human error, streamlines data, organizes test results and EMRs, and much more. Additionally, Polytech software is easy on the user – the user interface is structured so that the majority of work can be done on a single screen. For labs that hope to remain on the cutting edge of the business, a custom LIS from CompProMed will keep them at the top of their game. For example, we upgraded to ICD-10 codes in 2011, well before the 2015 deadline. Many LIS vendors are still in the process of upgrading their systems.
Polytech software can be found throughout North America, Asia, and Africa. It is customizable for labs of any size and capability, from small HIV testing facilities to multi-building hospitals. Please contact us today for a free quote or demo. We're happy to answer your questions and find a solution that's right for your facility!