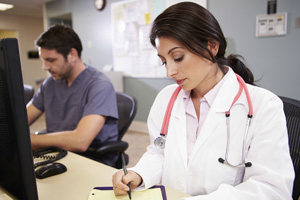 Looking for better software for storage and recall of your electronic healthcare records? CompProMed has exactly what you need. For over three decades, CompProMed LIS software has been a leader in the industry when it comes to innovation and customizability. The Polytech system smoothly interfaces between patient records, billing, test results, lab equipment, and much more. It's truly flexible and highly secure, with regular upgrades keeping it at peak performance.
Governmental regulations for patient security are of the highest priority for many clinical labs. We remain consistently ahead of the curve, maintaining and upgrading the system well ahead of governmental deadlines. For us, maintaining privacy for electronic healthcare records isn't just good business, it's also good ethics. Your lab deserves skill and quality, and the CompProMed LIS software is the ideal choice. As one of the leaders in the industry, we created Polytech with the needs of clinical laboratories in mind. Many other LIS and LIMS vendors came onto the scene later, offering big box solutions for similarly big price tags. If your facility is operating on a tighter budget, you need a vendor who will be attentive to your situation without treating you like a "small" client. At CompProMed, our Santa Rosa team personally handles customer support. We don't outsource customer issues, and we'll work with you every step of the way to make sure your system is working for you.
Don't trust your electronic healthcare records to a company that treats you like a number. All of our clients are valued and worth our time, every time. CompProMed has been trusted with projects ranging from governmental to private, and our decades of experience and passion show through. Please give us a call today for a free quote or demo!