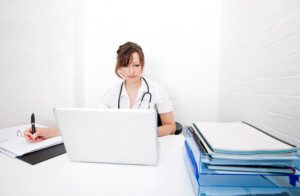 If you're ready to upgrade your healthcare information management systems to something that works better for your facility, Comp Pro Med can help. With our LIS software, versatility is key. A Polytech system is customizable, able to interface with a wide variety of equipment, and can scale up or down to suit a clinical lab of any size. Whether you run an independent clinic or are upgrading a teaching hospital, you'll find our system efficient and easy to work with.
Many laboratories are currently working with a system that isn't well suited to their needs. Other LIS software vendors often install LIMS software, which is actually better suited for large-batch research than individual patient care. If your facility is a clinical lab, veterinary clinic, hospital, or other business concerned with seeing patients, you'll find a LIS to be more versatile. With the ability to interface between departments, return test results, and maintain secure patient records, it's an ideal choice. If you've been unhappy with healthcare information management systems in the past, it may be because you hadn't found the right fit. We are always happy to provide a consultation or free product demo to facilities looking to upgrade or change systems.
Comp Pro Med has been a leader in the LIS business for over 35 years. Healthcare information management systems have been around nearly as long, and we were one of the very first companies to create and install them. Our experience and passion for this industry shines through in everything we do, from our personalized customer support to our constant innovation. For more information, please contact us today.