White Paper examines how to drive greater clinical lab productivity by managing patient lab tests more efficiently while ensuring error-free integration with other healthcare systems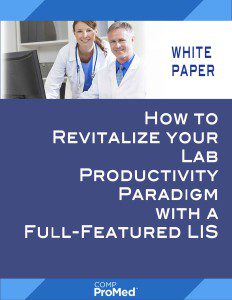 Santa Rosa, California – Comp Pro Med, Inc. has announced the release of a new white paper titled "How to Revitalize your Lab Productivity Paradigm with a Full-Featured LIS." This white paper discusses the obstacles healthcare organizations face controlling costs, integrating healthcare IT systems, and increasing productivity in the face of numerous industry challenges.
"Most healthcare companies today are struggling to ensure that their laboratory workflows are as efficient as possible," states Jeff Fisher, President of Comp Pro Med. "Too many labs lose revenue from lost lab tests and inaccurate billing codes. This just doesn't make sense when there are digital solutions available."
"Healthcare right now is a dynamic industry with constantly changing requirements that must be adopted quickly for the organization to remain efficient and compliant," Fisher continues. "Adapting to change by implementing best of breed, full-featured, easily integrated solutions not only optimizes staff efficiency but also streamlines the capture and management of patient data."
The white paper examines how to leverage a Laboratory Information System (LIS) to revitalize the laboratory's productivity paradigm. It addresses how to objectively evaluate commercial LIS offerings, avoid LIS project scope creep and budget overruns, and accurately calculate the true cost of any LIS offering. Critical topics such as features, functionality, interfacing, integration, reporting, quality controls, data storage, statistics and analytics are covered.
A best practices, best-of-breed LIS enables healthcare organizations from hospitals to clinics manage patient lab tests more efficiently and cost-effectively as well as ensure error-free integration with healthcare systems and lab equipment.
The white paper is free and available upon request from the Comp Pro Med web site at https://www.comppromed.com/news/white-paper-revitalize-lab-productivity-paradigm/