Get More Than Customer Support, Get Lab Support
Are you getting the support you need with your LIS?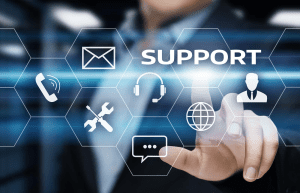 When our customers call, they speak to a real, live LIS expert who works on our system everyday. Many issues can be resolved the same day. We often solve problems and make changes within minutes with our customers, so they have a better understanding of how changes are made.
Live Human Support: We partner to help optimize Polytech for your unique workflow.
Senior Support Staff: High quality direct support from senior programmers.
No Support Levels: All customers receive top tier support, no lower-class support levels.
Software Updates: All software updates provided free of charge.
We Don't Just Make Changes for You, We Make Changes With You
Comp Pro Med prides itself on how easy and robust Polytech is to use. We give customers robust tools and teach them how to use them. Changes like adding tests, panels, or making report modifications can be done with or without our support team.
At our founding, Comp Pro Med decided to help our customers with live support that actually helps solve their problems. When you talk with our customers, it's one of the first things they mention about working with us. Our support is second to none. We know that what's most important happens the minute after you purchase your LIS and the many years that the system runs in your lab.
The personal relationships we develop with our customers helps us to understand their unique needs and design the system to fit their workflow. We always say, we succeed when our customers succeed.
Learn more about Polytech's Customized Report Generator.

About Comp Pro Med
Since 1983, Comp Pro Med has been solely focused on developing a world class, customer-centric LIS. Polytech, Comp Pro Med's laboratory information system, expedites patient record processes, interfaces seamlessly with any application or instrument, automates data collection and reporting – all with zero downtime, and all in compliance with state and federal regulations.
Comp Pro Med has deep experience in providing LIS solutions for labs and hospitals of all sizes, ranging from small individual clinics to networks of medical facilities at the governmental level. Our focused customer-driven approach combines our state-of-the-art feature-rich Polytech clinical laboratory information system with superior support from seasoned system engineers.
Our expertise includes not only continuous development of the Polytech LIS to incorporate the latest technology and regulatory requirements, but also direct interfaces that seamlessly connect your LIS with analyzers, instruments and other systems such as reference laboratories, HIS, EMR, EHR, billing and practice management systems.