Medlink is Edge Computing
Medlink
Medlink is Comp Pro Med's proprietary distributed computing framework, or "edge computing". It allows the deployment of computing and database resources in the lab. Medlink ensures no downtime or data loss and reduces latency or lag time.
Edge Computing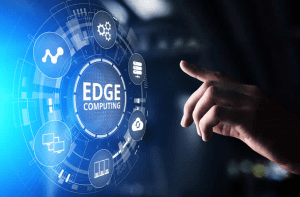 Edge computing optimizes hardware and software applications by bringing computing closer to the source of the data. This minimizes the need for long distance communications between client and server, or cloud applications, which minimizes computing time and bandwidth usage. Edge computing, the most advanced system in the industry, used by companies such as Amazon, eBay and Google.
Medlink Features:
Failsafe redundant database network with no downtime.
Low cost solution in both capital and personnel compared to Client/Server or SaaS/Cloud models.
Self-healing system: when a down node is restored, all data is restored.
Self-distributing: updates to one node are automatically distributed to all nodes. No installation needed on multiple terminals.
Decreased data volume, distance and traffic. Reduces transmission costs, latency and improves service quality.
Improved security compared to client/server or SaaS/Cloud.
About Comp Pro Med
Since 1983, Comp Pro Med has been solely focused on developing a world class, customer-centric LIS. Polytech, Comp Pro Med's laboratory information system, expedites patient record processes, interfaces seamlessly with any application or instrument and automates data collection and reporting, with zero downtime and in compliance with state and federal regulations.
Comp Pro Med provides LIS solutions for labs and hospitals of all sizes, ranging from small individual clinics to networks of medical facilities at the governmental level. Our focused customer-driven approach combines our state-of-the-art feature-rich Polytech clinical laboratory information system with superior support from seasoned system engineers.
Our expertise includes not only continuous development of the Polytech LIS to incorporate the latest technology and regulatory requirements, but also direct interfaces that seamlessly connect your LIS with analyzers, instruments and other systems such as reference laboratories, HIS, EMR, EHR, billing and practice management systems.