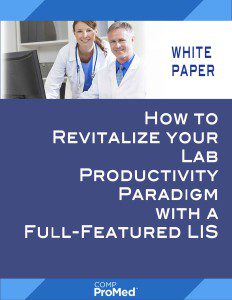 Streamlining patient lab test management activities can enable healthcare organizations to control costs, reduce errors, and increase productivity
Healthcare organizations are facing numerous challenges that range from industry consolidation to increased regulatory oversight to the increased cost of doing business. And that's just for starters. In order to address these challenges, small clinics and large hospitals alike are turning to digital solutions to drive business transformation.
CompProMed's white paper examines how to revitalize your laboratory's productivity paradigm with a full-featured, best-of-breed Laboratory Information System (LIS) and how to pick the best one for your organization.
Find out how to:
Objectively evaluate commercial LIS offerings
Manage patient lab tests more efficiently and cost-effectively
Ensure error-free integration with healthcare systems and lab equipment
Avoid LIS project scope creep and budget overruns
Calculate the true cost of any LIS offering
Deploy a successful patient lab test management system
Request your copy of the white paper today!